The Ultimate Guide to Training Retail Employees
Effectively Train, Motivate and Measure Results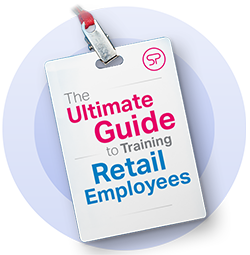 Effectively Train, Motivate and Measure Results
Online shopping has changed retail. Although e-commerce continues to gain share, many individuals still prefer to do their shopping at brick and mortar retailers.
Why do some people continue to shop in person?
A recent survey found that more than half of consumers think online shopping misses touching, feeling, and experiencing products firsthand. Forbes recently reported that physical stores still make up over 90% of retail sales, and Google discovered that 80% of shoppers choose to go in-store for immediate purchases.
Retail stores are still important in today's consumer market. But retailers must continue to work to differentiate themselves from their own online channels and competitors.
Many business leaders today focus on providing products quickly and efficiently.
The problem is that all too often, decision-makers tend to neglect the importance of customer service and employee training. One recent Salesforce survey discovered that 80% of customers believe experience is as important as the products themselves.
Retailers can provide great products and services, and competitive pricing, but retail employees are still a critical element of in-person sales success. Coresight cited service as one of the five factors in retail for 2020 - "brands and retailers will deepen connections through services." Businesses that don't meet expectations risk losing lifelong customers.
Statistics show that a single negative experience causes an overwhelming 51% of customers never to do business with that company again.
If we believe customer service is one of the most critical elements of retail success, then employees provide that service. To provide an outstanding customer experience, retail employees need appropriate training and support.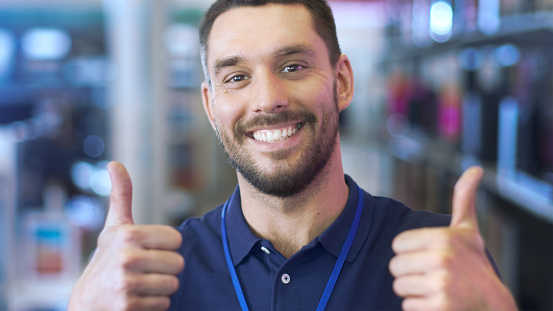 The Importance of Retail Employees

Retail employees are an essential element of business growth, sustainability, and success. These individuals need to follow rules and procedures and fulfill the needs of customers. And they directly impact a store's bottom line.
"Shoppers who interact with a sales associate are 43 percent more likely to purchase a product, and their transactions have 81 percent more value, compared to those who don't interact with an associate. In addition, they are 12 percent more likely to revisit the store."
Additional statistics from an American Express report show that:
62% of customers claim that a representative's knowledge or resourcefulness is crucial in helping them decide what to buy.
7 out of 10 U.S. consumers say they've spent more money to do business with a company that delivers great service.
68% of customers said that a pleasant representative was key to their recent positive service experiences.
Organizations known for high-level consumer satisfaction are more likely to flourish and grow. Companies that lack appropriate training plans should create initiatives to encourage employee development.
A recent Harris Poll survey found that 70% of employees would consider leaving their current position in favor of another company known for investing in employee development and learning.
Many companies design strategic initiatives aimed at improving customer experience. The problem is that many of these transformations fail due to employee resistance. Businesses can implement and develop fancy strategic mechanisms but will still fall short if their employees are unable to learn and develop.
Robert Half found that businesses with an influential learning culture enjoy employee engagement and retention rates at a 30% to 50% higher rate than other organizations.
Businesses have to provide top-notch customer service while minimizing employee turnover.

Why do you need to train?
Effective training can create a symbiotic relationship between businesses and employees. Providing employees with the knowledge and tools to succeed can increase sales and reduce employee turnover.
The problem is many employees feel they lack the support and resources needed to flourish and grow professionally. A recent Gartner survey found that only 40% of employees believe their managers help them develop the skills required to be successful in their current role.
Drive sales
Retail employee training empowers employees by arming them with the knowledge needed to share product information while successfully managing customer relations. CNBC found that 50% of shoppers seek advice when entering stores, and MarketForce found that 90% of shoppers who received employee help ended up purchasing products.
Developing proper training programs increases customer satisfaction and helps drive sales. Consumers have the option of purchasing products without setting foot in a store, and there's lots of great information about those products online. Consumers enter stores for the sole purpose of being educated by employees and to touch the merchandise. Providing ongoing training to employees can drastically improve this in-store experience.
Customer and employee retention
Employee turnover is a big financial burden for businesses. The costs associated with hiring, training, and investing in employees can be in the many millions for a large retailer. Investing in human capital and providing ongoing training is one way employers can reduce turnover.

Many companies lack stability when it comes to training employees. Training is inconsistent. Gartner even found that one-third of employees received absolutely no formalized training over the last year. Allocating employee time towards regular training programs can drive long-term sales growth and customer retention.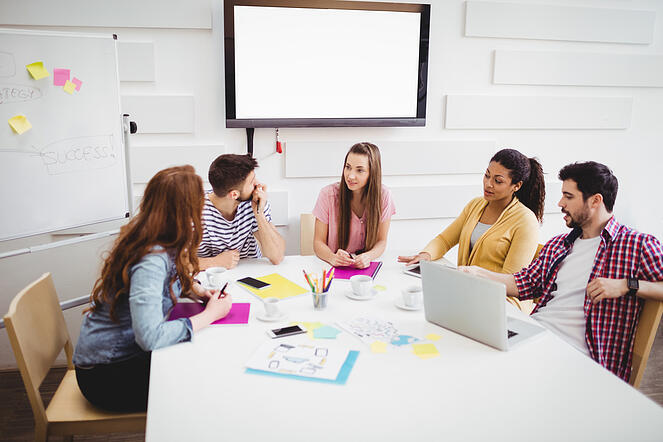 Turn retail employees into store advocates!
According to SellPro research, retail employees provide over 18 product recommendations each workday—resulting in roughly 4,650 recommendations yearly. The research also shows that roughly 70% of those recommendations influence actual purchase decisions. So, a mid-size retail organization that employs 1,000 store sales associates drives over 3.2 million consumer decisions per year. Just think of the sales your business could be missing out on due to inadequate sales training programs.
When should you train employees?
Training programs need to be organized and scheduled in an orderly manner to be effective. Schedules should provide onboarding training and continuous development.
Onboarding: Before their first working day, employees should be proficient at daily tasks and duties. They should understand the basics of products and be able to provide valuable feedback and information to customers as needed.
Product and procedure updates: The world of retail is fast-paced and can pivot quickly. As product launches and feature updates are released, employees should be informed about new products, procedural changes, organizational updates, and company policies.
Soft skills: Throughout the year, soft skills training sessions should be included. Product knowledge is vital for business success, but retailers should also invest in employee soft skills. Communication, problem-solving, and risk management tactics should be a part of regular learning protocols in addition to product-specific learnings.
Performance development: Employees should receive regular updates regarding their performance. Quarterly evaluations should inform employees about potential weaknesses so that yearly reviews contain no surprises. Praise and recognition should be given frequently to outstanding performers.
Effective training should utilize each of these elements. The scope of training should go beyond product knowledge and features. Leaders can increase employee engagement by encouraging employees to become well-rounded individuals by emphasizing soft skills and leadership training. Regular performance evaluations help ensure employees are aware of their strengths, weaknesses, and long-term goals, and management should make individualized plans to fill these gaps.
Download the Ultimate Guide to Training Retail Employees!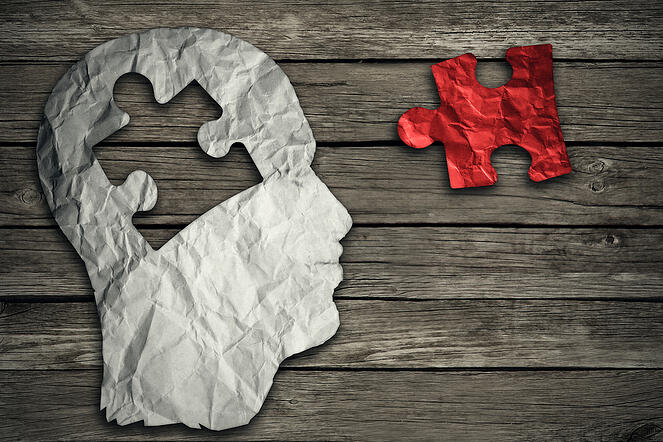 How is training done today?
Effective retail training can help retailers be more successful. But statistics show that many retailers are overlooking training and learning as a way to increase sales.
RetailWire found that 62% of new store associates receive 10 hours of training or less. How can retail employees be confident selling products with such limited knowledge and training?
Developing intense training programs isn't enough to ensure workplace success. Businesses must balance in-store and online training to keep employees engaged, but use the best learning and information retention strategies.
Research performed by the Harvard Business Review discovered that people forget HALF of what they learn after a single hour and over 75% within a single week.

Engaging training through a mix of online coursework and real-life scenario/role-playing can help employees establish and develop foundational job skills.
What Tools are Currently Used for Online Training?
In a fast-paced digital world, employees need to stay up to speed on changes in products and processes. Online training has become the top training method for retailers and most other businesses. Nearly all employers have implemented online training tools, with the Association for Talent Development reporting that we spend around 41% of learning hours on technology-based education.
Learning Management Systems
Learning management systems (LMS) are software tools or web-based applications designed to plan, organize, and manage employee development. These platforms provide interactive learning content that continually assesses employee performance and engagement. The effectiveness of these systems relies on monitoring users' participation, certifications, and other metrics.
LMS systems teach employees a broad spectrum of topics, from information about new products and services, to systems, procedures, and professional tips. Giving employees access to these tools helps engage them and improves customer experience and employee retention.

A 2019 LinkedIn survey found that 94% of employees would remain with companies longer if they simply provided more learning opportunities and resources. LMS systems provide easy-to-use training and resources that employees can access training as often as desired.
Learning Management Systems allow users to store, track, and analyze information within a single platform. Most LMSs provide training and development teams with common features, including:
Branded employee portals
Integration into other corporate systems
Gamification and rewards
Collaboration and communication
Reporting
LMS systems allow businesses to provide courses and company information within a single platform.
But LMS's have drawbacks too. Some systems are inflexible, requiring specialized skills or tools to create the content. Or, they may be limited only to powerpoint type slides, or only videos. You'll want to find a solution that has all the features you need.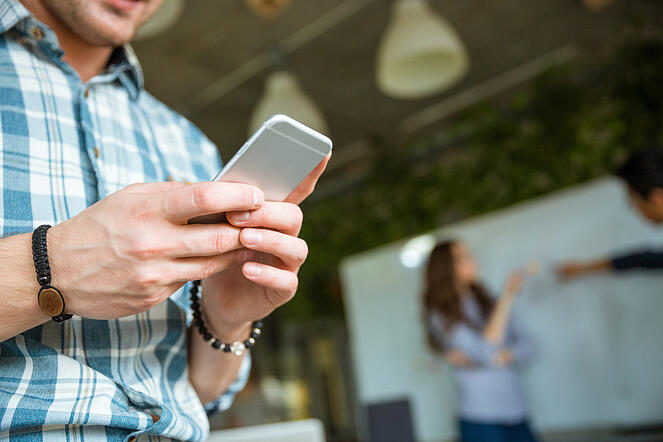 Mobile Training tools (mLearning)
Both the nature of consumers and the nature of retail employees means that if you haven't taken your training tools mobile yet, you're falling behind. Mobile learning can be used on your phones, tablets, laptops or gaming systems, and many retailers have devices on the floor or allow employee's own devices to access platforms that can make "anywhere training" a reality.
Mobile learning or mLearning is critical to retail employee development. Training can happen on the store floor, and with immediate access to a knowledgebase, employees can access specific information at a moment's notice.
Besides the obvious advantage of not being tied to a specific device or location, you can frequently take advantage of the native functionality and features of these devices like cameras, barcode readers, chat and more, along with the training content itself.
But one of the biggest reasons for advocating mLearning is that you can have asynchronous training sessions - not everyone having to be in the same room at the same time. This means people can learn at their own pace, or can acquire different skills.
Gamification for Learning
Keeping employees engaged and motivated while simultaneously providing useful learning tools can be a challenge. One study found that using video games for training purposes can stimulate employees while encouraging professional development.
The training methodology known as gamification refers to using game design for professional training purposes. Implementing game design can help make employees more motivated to learn. Research performed by Trakia University found gamification to be a practical approach for developing professional skills.
Gamification has become part of professional development strategies for many organizations. Many retailers use gamification to create more engagement with their training curriculum and increase knowledge retention.
Gamification uses badges, leaderboards, and "level-up" modules to create friendly yet competitive environments. Results show that retailers' gamification is very effective for both motivating and engaging employees in training.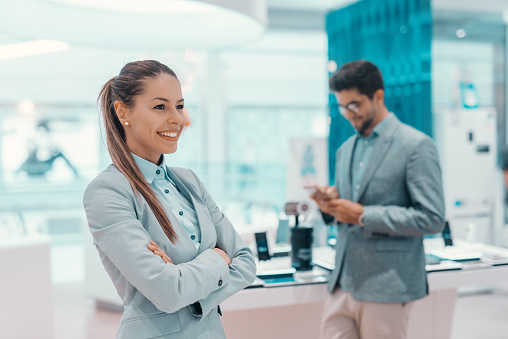 How to Effectively Train Employees
Microlearning
Today's fast-paced world means that people are processing tons of information at unprecedented levels. As such, recent research has indicated that short bursts of training are more favorable and useful than long-form content and in-classroom settings. Micro-learning provides bite-sized learning experiences that better serve employee engagement and retention. Many organizations have begun utilizing micro-learning as part of their professional curriculum to stimulate employee learning and improve information retention.
Recent studies have indicated that micro-learning can increase information retention by up to 20% compared to other forms of learning. With attention span reaching an all-time low of eight seconds, short bursts of information heighten employee engagement and learning.
Retail employees need to digest information using training that emphasizes micro-learning capabilities quickly. The Journal of Applied Psychology has discovered that micro-learning is 17% more effective than traditional classroom-based training.
Delivered through text, app, or interactive multimedia—micro-learning emphasizes short 3 to 5-minute durations of training. These durations mimic users' social media, video sharing, and app habits. These brief yet uninterrupted periods of learning can better employee professional development.
An academic study found that 81% of respondents declared micro-learning the most effective learning system for workplace development.
Certification and Assessment
Contemporary workplaces can break training into individual modules with singular learning objectives. Using an LMS with micro-learning capability that provides certification and assessments, leaders can establish professional development goals with employees while monitoring proficiency on an ongoing basis.
Multiple Content Types
Retailers should use a learning format that includes a wide array of visual tools, interactive capabilities, videos, case studies, and more. Keeping track of professional progress and verbalizing outcomes can encourage communication between retail employees and leadership.
Set Expectations and Learning Outcomes
With carefully guided expectations and post-training surveys, companies can continuously monitor performance and adjust learning approaches based on employee feedback. Teams should remain conscious of performance metrics and long-term professional development strategies.

Best Practices for Training Employees
Retailers should remain focused on creating training content materials that best serve the needs of employees. Organizations should develop long-term strategic goals that allow employees to feel appreciated at a professional level. Doing so can save businesses countless dollars due to higher retention rates.
Gallup has estimated that replacing employees costs companies nearly twice an employee's annual salary. Businesses lose an estimated $1 trillion annually due to voluntary turnover and lost employee productivity.
Training Strategy
Employee training plans should be updated and reviewed on an ongoing basis. Simply assigning learnings to employees with a predetermined due date is not enough to solidify professional growth and long-term success. Communication channels should be established between employees, management, and HR when it comes to managing training curriculums.
Use Gamification to Keep Training Fun
Gaming elements need to be fun. Enjoyable games will see higher participation rates, encourage healthy competition and team cooperation, and engage employees. Higher rates of engagement lead to lower absenteeism and higher rates of productivity. Creating fun that will pull your employees into playing does not focus too much on the tangible aspects of points and leaderboards. It is best to invoke emotions of amusement, curiosity, exploration, creativity, and excitement and gauge how employees feel when they play so future iterations can be made more successful at captivating them.
Use Training to Keep Employees Engaged
The vast majority of employees are seeking continuous learning opportunities. Career growth opportunities rank as one of the top objectives of professionals. Employees that feel undervalued by their employers are more likely to feel disengaged.
Keeping employees engaged should remain a top priority for retailers. Over 44% of employees say a lack of recognition and engagement is a leading cause of job dissatisfaction. Performance management tools enable consistent performance monitoring while highlighting outstanding employee effort.
A recent Gallup survey found that a mere 13% of employees are engaged worldwide. This minuscule figure means that under-appreciated employees are much more likely to seek external job opportunities.
Retail employee loyalty and retention should be a top priority for industry leaders. Keeping employees engaged and motivated will lower the likelihood of turnover while increasing employee effectiveness. Individuals have the innate desire to seek external validation through rewards and recognition.
Communicate the "Why" Behind the Training
If no one takes training courses because they don't know they exist, that's a communication problem. But employees need to know WHY this training is important as well. Leadership should communicate how training is related to current and future job roles. Instead of providing limited monotonous training courses, retailers should offer personalized training services geared towards specific employee development. Career-focused employees, who are likely among your hardest working and best performing, will feel the value of training and stay in positions longer when they understand the intentions and goals.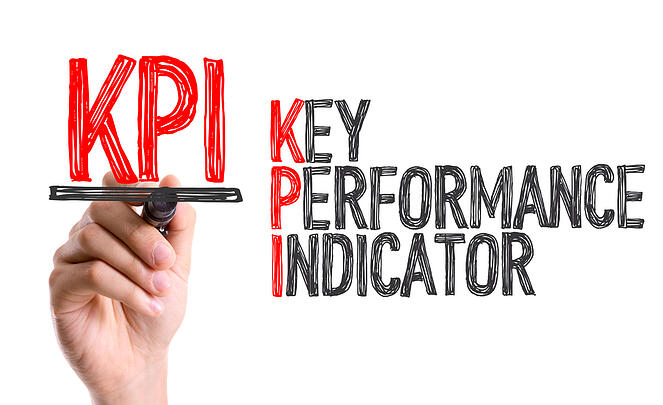 Measuring the Effectiveness of Training
Training opportunities should be more than just teaching employees how to do a job. Retailers should focus on providing constant engagement and encouraging professional growth for their employees. Leaders should view training as an investment in both employees and the company.
To measure the effectiveness of retail employee training, managers should review metrics and performance indicators such as:
The extent to which training helped the employee learn relevant knowledge and skills
Employee ability to apply learning applications under real-world conditions
The extrinsic benefits of enhancing employee engagement and retention
Each of these indicators can help measure training success rates and effectiveness. Proper training implementation can result in a substantial return on investment for companies. Although many decision-makers claim employees are a company's most valuable asset, often training and development programs are underfunded. The truth is training programs can provide substantial ROI.
A recent study performed by Accenture found that every dollar spent on training results in a 353% ROI. Another company determined that every dollar spent on training an employee results in $30 worth of productivity.
Likewise, inadequate or nonexistent training may result in negative ROI due to employee disengagement and higher job turnover rates. Organizations that neglect or under-appreciate training are likely to experience several negative ramifications. Carefully measuring the effectiveness of training programs is one way of developing successful long-term training strategies.
Retailers should focus on collecting post-training data and isolating the effectiveness of each training program. Ideally, performance metrics tied to monetary values can reveal cost savings and potential ROI. Quantifying results can help justify training investments and better allocate future resources.
How SellPro Can Help
SellPro helps retailers consistently engage store employees and achieve stronger sales through gamified micro-courses, sales tools, messaging and virtual events, all accessed on a user's mobile phone, tablet or PC. The platform weaves smart incentives and taps into the users' competitive spirit through quizzes, contests, leaderboards, prizes, discounts, rebates, and more.
SellPro's versatility enables an array of customizable training programs, including:
Product training
Sales training
Vendor training
Customer service training
Compliance training
Health and safety certification
If you'd like to test SellPro's basic capabilities for free, be sure to visit our website to create a free SellPro Starter Plan.