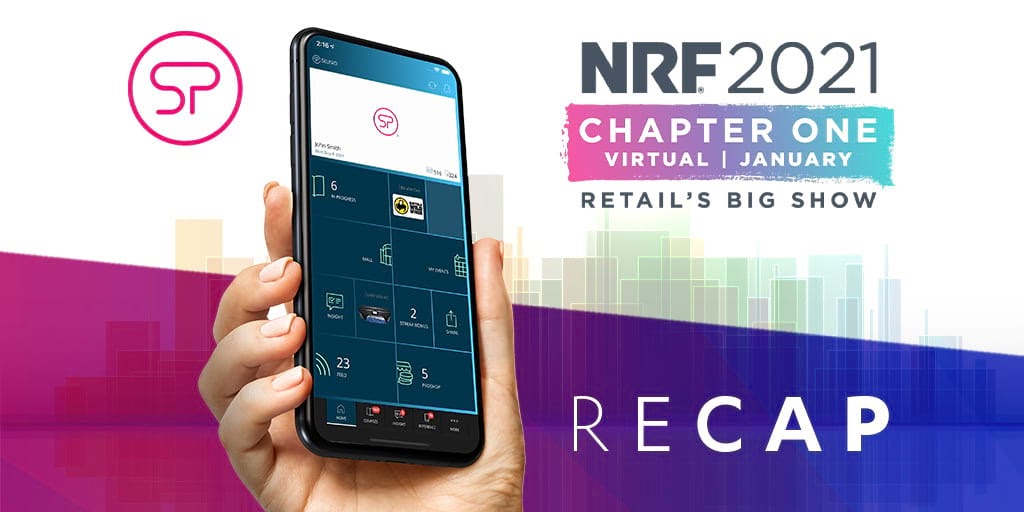 We are fresh out of the National Retail Federation's NRF®2021 Chapter One virtual conference held earlier this month. The consensus expressed across the 100+ sessions featuring over 300 industry experts is that many elements of the "new normal" facing retail look likely to stay. Retailers, brands, and supporting technology vendors consistently addressed omnichannel developments, the importance of digitizing processes and capturing analytics, and how paramount the customer experience has become.
Omnichannel Meeting Customer Expectations
Perfecting the omnichannel experience was a popular topic at the conference. Sessions covered the array of new and evolved customer expectations and how to meet them with greater options, technology, and creative strategies.
More Customer Options
As one session put it, there has been "explosive demand for last-mile convenience, safety, and low-cost delivery". Reports indicate that 53% of customers avoid businesses that don't provide such services, with 4 out of 5 only selecting businesses that offer curbside pickup and other new conveniences.
What options do customers want from retailers?
Curbside pickup
Fast delivery
Store lockers (

BOPIS)

Contactless payment
Increased payment options
Options to talk to sales associates by appointment
Faster communication via chat, email, and social media
Better returnability
Safety
Of course, many of the options retailers expect to remain per customer expectations have been rolled out for safety reasons. Increased payment options, including online prepayment, is an example. To support omnichannel shopping options (curbside, scan and go, BOPIS, etc.), retailers have had to integrate new payment platforms and ensure their systems could handle increased volumes from online to offline.
To increase in-store safety further, some tech companies at NRF presented ways to leverage existing technology. Cisco Meraki's Strategy VP Raj Krishna and Purple's CEO Gavin Wheeldon explained how camera sensors can be used as people counters to help maintain social distancing. The data provides real-time information online for customers considering which store location to visit.
The tech companies also discussed customer engagement technology strategies, such as setting up stores with triggers to push micro-surveys to customers as they leave a location. This allows retailers to gauge perspectives on in-store safety and affirms to customers they are socially responsible.
WATCH: More than an LMS- Retail E-learning & Brand Advocacy, Mobilized
Seamless Experiences
Omnichannel is all about providing seamless customer experiences through multiple channels–from online, mobile, and in-store. Retailers at NRF discussed how they are using technology in their omnichannel strategies.
In one session, Home Depot IT SVP Fahim Siddiqui and Macy's CTO Naveen Krishna discussed how customers expect timely, targeted, and tailored experiences, but many retailers struggle with this. Why? Because they are using legacy tech stacks and have siloed systems leaving them with the inability to take action on insights.
Customer intimacy
Ulta Beauty led several sessions where they talked about their stellar customer loyalty program—which boasts 32 million 12-month active members who contribute to over 95% of their sales!
Ulta's Customer Marketing VP Kelly Mahoney and IT Manager Kavitha Dhurai outlined the many ways Ulta uses technology to automate and connect with customers. One such tactic, using API for two-way conversations on chat, email, and social media, helps them seamlessly serve customers.
Other showcased technology included:
Google now offers a way for customers to message retailers right from their listings page.

Apple has introduced Business Chat - a highly branded rich texting platform for businesses to connect with new customers, redirect customer service calls, and more.
Hand-held

tech and computers enable RSAs and customers to see and buy online options that may not be in-store when they visit a location.
Is appointment setting back?
Appointment setting is being well-received by customers right now. Verizon's SVP Krista Bourne mentioned that more and more customers are preparing for store visits by engaging with reps before in-store sales. Appointments are also working well for tech support and general services. In short, in-store and sales appointments via platforms like Zoom to discuss anything from fashion to electronics help retailers deepen relationships with customers and aid the omnichannel experience.
Micro-fulfilment
Stores delivering goods the last mile is becoming the norm rather than the exception. Experts predict that more chains will move to a smaller physical space for customer browsing and increased use of their store footprints for online fulfilment and local distribution.
Home delivery used to be considered a luxury, then transitioned into convenience, and is now mainstream. Experts at NRF agreed that research indicates convenience options like delivery, curbside pickup, and in-store fulfilment have created more sophisticated consumers that retailers must cater to.
To meet last-mile delivery expectations, retailers are contending with:
Training retail employees to support online initiatives such as transitioning between pick-and-pack duties vs. regular duties
Determining staff scheduling for a new consumer
Physical store alterations - building out designated fulfilment areas, setting up store lockers for rapid pickup, and maintaining curbside pickup areas, signage, and processes
Better Returnability
Many analysts assume that after COVID, consumers will return to the stores for purchases that they like to experience in-person, such as clothing or furniture. However, others believe that liberal and easy return policies, whether for online or offline purchases, can be used as another consumer touchpoint.

"Retailers view the return process as an opportunity to further engage with customers, as it provides additional points of contact for retailers to enhance the overall consumer experience." - Mark Mathews, VP, Research & Industry Analysis, NRF

Digitizing for Greater Agility and Insights
Many large retailers who presented at NRF returned again and again to the concept of agility, claiming that creatively and quickly solving COVID's first lockdown challenges helped them survive. Part of being agile included the build-out of a digital infrastructure that provided increased flexibility. Some large brands such as Lowe's admitted that they had ignored digitization for far too long before this urgent need.
Several major brands commented about how difficult it can be to switch from legacy systems and unlearn some of the things that made them successful. But they stressed how the retail landscape has been evolving for some time, and an interconnected ecosystem that encompasses online and offline customer journeys are critical and require digitalization, integration, and automation.
Digitizing methods promoted at NRF include:
Omnichannel personalization - Integrating data to better target and provide timely experiences for customers from online to offline.
Improving customer communication and relationship building - adding channels such as chat, texting, and social media.
Using real-time analytics to make quick decisions about customer behavior.
Using smart data to stay on top of supply chains, enhance efficiency, and forecast customer demand.
Automating systems to keep track of hundreds and thousands of employees at the macro-level.
"If you do not create good customer experiences, then you are just left with a very expensive distribution method." - Gavin Wheeldon, CEO, Purple Technology
LEARN MORE: Real-time Retail Intelligence
Retail Staff in New Retail Ecosystem
Moving past "plug & play" employees
In years past, turnover and lack of engagement meant retailers limited investment in individual staff members. Several retailers noted that in the course of evaluating business needs over the last year, they learned that high performing stores had high performing staff. The "ah-ha" was that the individual staff members mattered to performance.
Invest in employees just as heavily as customers
The rapid pace of change has required large and small retailers alike to train their teams continuously. Changes to policies and procedures and creating great omnichannel customer experiences mean employees desperately need the training and understanding of how they fit into the overall picture. Some large retailers estimated their training costs in 2020 in the hundreds of millions of dollars.
Compensation changes
Because sales may start or end in different places, today's compensation models will need to be changed to reflect points of influence as well as sales. And with front-line workers literally putting their lives on the line, some state and local governments, as well as employers, have established a hazard pay of sorts.
Retail employee training
Many retailers praised overhauling traditional half-day/full-day training, saying bite-sized training that employees easily access is much more effective. Retailers also noted the importance of providing a single platform to increase their knowledge base across their chain and create common standards to improve customer service. NRF participants applauded platforms that provide rapid communication to staff around the country, keeping their knowledge and morale up during difficult times.
Educate. Engage. Inspire.
Besides attending these great sessions, we connected with retailers and brands at NRF about employee communication, education, engagement, and inspiration, both during COVID and after.
SellPro's retail training and engagement mobile app gives retailers:
Micro-learning that engages - Easily create and deploy engaging, bite-sized courses to train retail store personnel.
Gamification that rewards - Encourage store employees to engage with your content through opportunities to earn products, eGift cards, digital rebates, and more.
Communication that connects - Stay connected via live and virtual events, chats, forums, polls and push notifications.
Sales tools that inspire - Reinforce training, sales practices, and compliance standards with sales tools and reference files that are always on-hand and ready to access.
Store-level intelligence that works - Gather real-time data that is available 24/7 through interactive real-time dashboards.
We hope to see many of you in person at NRF®2021 Chapter Two in June!

---
Additional Resources:
Ultimate Guide to Training Retail Employees
Empower Vendors To Help Create Great Customer Experiences
SellPro - How It Works
Sign up
We write to help you train retail personnel better and increase retail sales. Sign up to get notified every time we post something new.