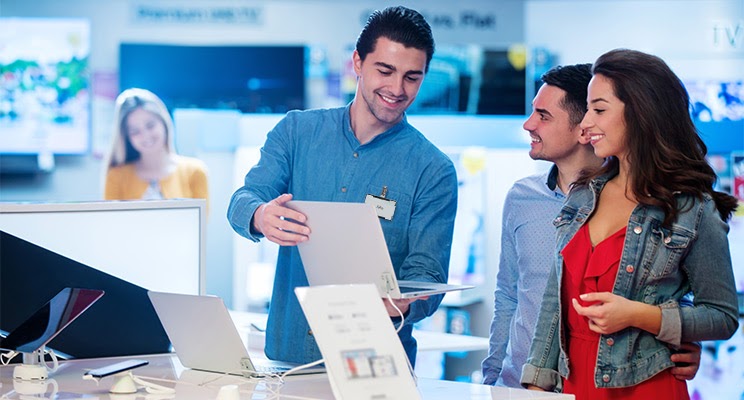 While eCommerce is an almost 4 TRILLION dollar business worldwide and accounted for $364 billion in sales in the US in 2019, contrary to popular belief, online shopping is not replacing in-store shopping. Depending on who you ask, eCommerce accounts for between 11-16% of total retail sales.
There are behavioral, entertainment, first-hand, and social experiences customers crave that are not met through online shopping. Understanding these experiences and how your stores can best offer them is the key to thriving in the face of growing eCommerce.
Creating the Customer Experience
Your objective is to move consumers past making decisions based solely on price by giving them experiences, introducing them to new technology or perspectives, and engaging them with entertainment and education.
A recent Retail Dive Consumer Survey found that customers that buy in-store primarily select in-store shopping vs. online because they value touching, feeling, and trying items before purchasing, as well as satisfying instant gratification impulses of taking home the goods they desire right away.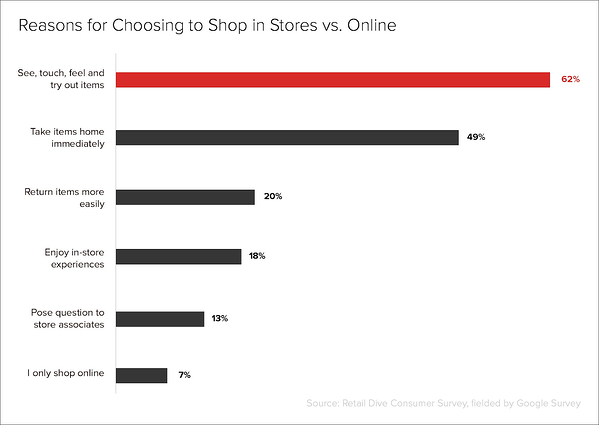 Ultimate Guide to Training Retail Employees
How Should Retailers Connect With Customers In-store?
Technology
If your stores sell technology or appliances, you already know the importance of having store models that customers can interact with and experience to help them down their decision process. But we are also in the age of touch screen kiosks, demonstrative iPads and tablets, and virtual reality and mixed reality simulations. There are so many "cool factors" stores can employ to engage customers and offer them retail experiences like never before.
When considering engaging technologies, you will need to test options to see what resonates with your customers and gives you the best ROI. Some technologies can not only create a better experience for your customers, but they can also serve as self-service options while sales associates are preoccupied. Some technologies, like virtual reality experiences or interactive kiosks, can also offer powerful learning that nurtures customer interest.
A creative example of technology delivering enhanced customer experiences can be seen with Starbucks' flagship Roastery based in Shanghai. They utilize immersive digital experiences to tantalize customers, with customers using mobile phones to access fun visuals and educational information about coffee roasting. The novelty has earned a lot of engagement from customers and helped Starbucks cultivate interest in their brand.
BARE International, a global customer research company, has found that mixed reality technology is instrumental in performance-oriented industries. They indicate that car dealerships, for example, can use the technology to engage and inspire customers, with the added benefit of reducing the amount of costly floor space and on-site car models required.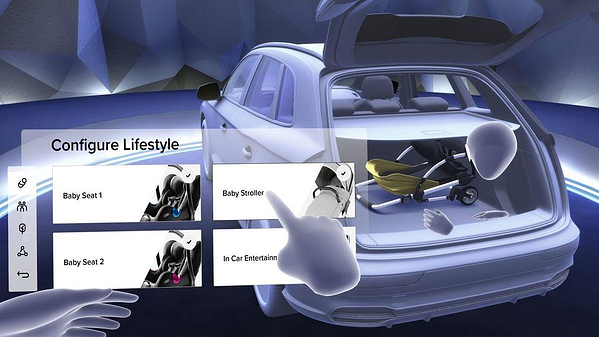 Retailtainment
Retailtainment is described as the "use of ambiance, emotion, sound, and activity to get customers interested in the merchandise and in a mood to buy." Although this is not a new concept, it is still extremely effective. Retailers should use their stores as platforms to promote fun, excitement, and learning. Dull in-store experiences minimizes repeat business and does not encourage customers to spread the word about your store (or worse, leads to negative reviews!).
Do not underwhelm your customers. Your stores should be using:
Music that attracts your target customers

Colors and retail lighting designs that cultivate the specific feelings you want customers to feel

Technology that engages customers

Trained and enthusiastic staff that serve to personalize the customer experience and behave as store advocates

Live experiences that entertain, demonstrate, or otherwise encourage customers to think positively about your store

Interactive competitions and creative events that not only engage customers but encourage them to share experiences on social media

Kid-friendly in-store options that help parents focus on browsing, learning, and being entertained

Ease of purchasing options, such as in-store POS kiosks, to help minimize friction for customers who have made the decision to buy
WATCH: Video on How SellPro Makes Training Retail Personnel Easy
Engagement With Retail Store Associates (RSA)
What's the one thing you have that eCommerce doesn't have? REAL PEOPLE! Store associates are a tremendous asset for creating amazing in-store customer experiences, as long as they know they are part of the experience. Engaging with passionate and knowledgeable RSAs who are readily available and helpful enriches the customer experience, particularly when customers are shopping for goods with a variety of features and capabilities, like electronics, white goods, or vehicles. Plus, people buy more.
According to a recent study, "Shoppers who interact with a sales associate are 43 percent more likely to purchase a product, and their transactions have 81 percent more value, compared to those who don't interact with an associate. In addition, they are 12 percent more likely to revisit the store."
Additionally, the feedback sales staff can bring back to store management following their first-hand accounts of customer shopping behaviors and their interactions with customers is extremely valuable.
RSAs can help answer such questions as:
Are customers interacting with displays?

Are customers coming to in-store events?

Do customers seem to enjoy their experience?

Are customers coming back and/or bringing others?
Answers to these questions will help identify what is working or offer intel on how to improve the customer experience being offered.
Preparing Sales Staff To Create Good Customer Experiences
Investing in your sales staff, from hiring to ongoing training, motivation, and incentivizing, is imperative to a good customer experience. An RSA who is unhelpful and not interested in creating good customer experiences will harm all other investments you make in creating good customer experiences.
Passionate and caring RSAs drive excitement and engage better with customers. And that passion can be cultivated through better vendor engagement and product training.
How We Can Help
SellPro's unique engagement platform allows retailers to better prepare and motivate their employees while encouraging their vendors to invest in engaging sales associates by providing access and tools to easily create and deploy their own micro-engagement content. Vendors are happy to invest as the more store personnel-facing content they have on the platform, the more direct impact they have on retail employee mindshare, recommendations, and sales.
To learn more and experience how we can help, please request a demo below.

---
Additional Resources:
Sign up
We write to help you train retail personnel better and increase retail sales. Sign up to get notified every time we post something new.